Bio
Marty Sima is a highly-experienced professional musician and DJ, who has performed more than 2000 shows in venues across Queensland, including the prestigious Brisbane Convention Centre and Brisbane Parliament House. Specialising in weddings, both big and small, he is highly regarded by operators and clients alike for his sensational guitar-playing skills and amazing vocals. No matter what your musical needs, Marty can organise them for your wedding ceremony and reception.
"Music has always been a big part of my life. From the age of four I was tinkering with a guitar," Marty says. " I feel very fortunate to be able to share my love for live music."
Marty's diverse musical career has seen him release a CD, compose radio jingles, work as a radio announcer and teach guitar, as well as play countess, varied live gigs including support for Daryl Braithwaite and The Radiators. He's also studied at the Melbourne Conservatorium of Music and has even had a guitar lesson with the legendary Tommy Emanuel.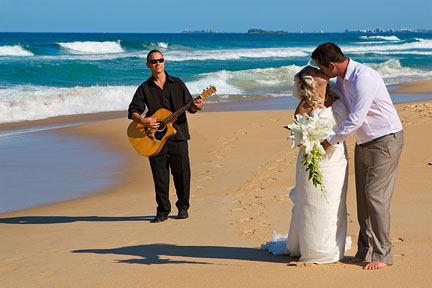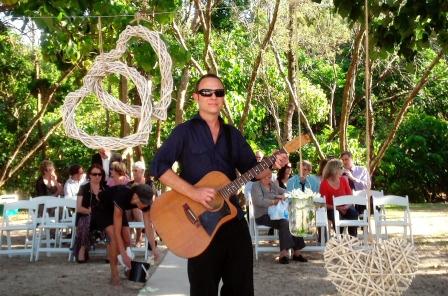 His passion for music also has seen him work in many different areas of the music industry, both as a live performer and teacher. Currently heavily sought-after for weddings, Marty has seen a noticeable growth in the Sunshine Coast wedding industry.
"Each year, there seems to be a lot more people traveling from interstate and overseas to get married on the Sunshine Coast. And why wouldn't you? From spectacular mountain views to remote tranquil beaches, it's one of the most beautiful places in the world!" he said.
"I really enjoy working in the wedding industry and meeting the beautiful couples, as well as other suppliers. Music is such an integral part of the wedding day and I really enjoy providing the soundtrack to people's special day."