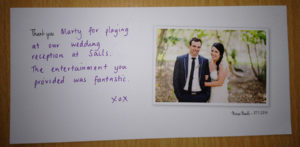 Nikaiya & Stephen, November  2014, Ebb Restaurant
---
Thank you for making our day so special. Your music during the ceremony and reception added so much to the occasion and made everything that little bit more special.
Leah and Dan, March 2016, Novotel Twin Waters
---
We wanted to say a huge thank you for playing at our wedding on Saturday. We had so many compliments for the music! Thank you for making our day perfect
Rachael & Dan, March 2016, Weddings at Tiffanys
---
Thank-You for playing at our wedding. It was absolutely fantastic. You went beyond our expectations. I have no problems recommending you for any events. Truly a class act.
Thank you 
Carissa & Mark, November 2015, Riverdeck Restaurant
---
Hi Marty, I just wanted to send a quick email to say a very big thank you for Friday. You did an amazing job! Brad and I were so happy with how the day & night flowed thanks to your tunes. Thanks again 🙂
Lisa and Brad, March 2015, Waterfront Restaurant Noosa
---
So so so helpful. fantastic selection of songs, beautiful performances that complimented the entire day from the ceremony to the reception and into the night. Very approachable with all queries, even when the deadline was close.
Lorelle Parker, November 2014, Weddings at Tiffanys
---
Hi Marty, Although its been a few weeks since our January wedding, your presence certainly has not been forgotten. We loved every minute of you being a part of our day.. From the minute people arrived to the ceremony, and hearing you sing as I walked up the aisle, to our first dance (thank you so much for learning this for us). Your professionalism should be commended and you exceeded all our expectations for the day. You have a true talent and we are so grateful we got to share in that.. Our only wish is that we could bottle up your music and have a playback of our wedding day  🙂 Thanks Marty
Clinton and Dawn, February 2015, Bribie Island
---
Played guitar beautifully all through the ceremony and reception before going into DJ mode after 9pm and getting everyone dancing.
Samantha, January 2015, Ricky's River Bar and Restaurant
---
G'day Marty, I hope you are doing welf the music was just perfect. Exactly what we had hoped for.
Blake & Sigrid, January 2015, Maleny Manor
---
Thank you so much for making our night an absolute ball. We had the time of our lives.
Carly & Anthony
---
I wanted to send a quick note to say a very big thank you for providing our music during the ceremony and pre-dinner drinks. The songs were amazing, and in particular the Ed Sheeran song 'Kiss Me', which you learnt perfectly. It's unfortunate we didn't get to enjoy more of your music as we went off to have photos taken, however our guests very much enjoyed having you entertain them.
Krystal & Scott
Hi Marty! I know it's a delayed thank you but you did an amazing job at our wedding 🙂 we really hope you enjoyed yourself. Thank you again!
Tash & Ben, February 2015, Flaxton Gardens
---
Hi Marty, Thanks so much for your efforts on making our wedding awesome on Friday. We had a ball!! ox
Amy and Graham, February 2015, Oceans Mooloolaba
---
Thanks Marty for the music on our wedding day. Was absolutely brilliant. Your rendition of follow the sun was great. Both Rachel and I were super happy with how great you were. Great range of live music and super friendly. Thanks Marty
Rachel and Ash, January 2015, Little White Church and Ebb
---
Hi Marty, Justin and I wanted to say a massive thank you for playing at our wedding last Saturday. You did an awesome job right throughout the day. I don't think there was a moment when there was no-one on the dance floor!!
Sharon and Justin, August 2014, Weddings at Tiffany'sj
---
Hi Marty, Just a quick email to say thank you so much for your music at our wedding on Valentine's Day. You exceeded our expectations and all our guests have said how great you were (vocally) and every song that was requested got played. All I hoped while I was planning this wedding was that our guests and us had lovely dinner and then a party after the formalities were done, I can honestly say that this was achieved! Thank you so much from both Kyron and myself (and our guests)
Kind regards,
Sam and Kyron, February 2014, Ricky's Noosa
---
Hi Marty, Its seems like only yesterday since our wedding but time has flown! Yvette and I have been meaning to get in touch with you and have only just found the time. Thank you so much for the great job you did at our wedding on the farm at Maleny. It all turned out just as we wanted and your music was a huge part of the atmosphere. All of our guests loved your music for the ceremony and reception. Yvette and I loved the songs you played and the great party everyone had with the dancing later in the night. I only wish I had more time to listen to you undistracted. I will just have to chase you up at a gig on the coast! I have attached a couple of pics that our photographer snapped of you. Thanks again Marty, we would have no hesitation in recommending you to anyone who would listen. Have yourself a happy and safe Christmas and a prosperous 2014. Regards,
Geoff and Yvette, October 2014, Maleny Farm
---
Hi Marty, I hope you're well. Jesse and I just wanted to let you know how happy we were with your music at our wedding ceremony on August 10 and Sunshine Beach Surf Club. We thought you'd be great based on your website and our celebrant's recommendation, but you totally blew us away. You were so much better in person and your song selection and vocals were outstanding. I still have guests telling me how great the music was. You were great to work with and really made our day special. Thank you so much. I've attached a pic from our photographer, Sheila Higgins.
Best wishes,
Kathryn and Jesse, Sunshine Beach Surf Club
---
Hi Marty, We had the most amazing day of our lives. We found you to be professional, relaxed & easy to deal with. Our only request for the night was for everyone to be up dancing on the dance floor – and they were!!! We were extremely impressed with the music you played & sang. Thank you for contributing to make our day the most perfect day possible. We would not have any hesitation in recommending you!
Thank you & kind regards,
Justin and Lisa
---
Hi Marty, I just wanted to sincerely thank you for playing at my wedding at Flaxton Gardens a couple of weeks ago! Everyone has told me how amazing you were and you were so lovely to deal with! I unfortunately only got to hear you play for a little bit, but what I heard was just what we wanted so thank you!
Josh and Caitlin, Flaxton Gardens
---
It was a glorious day in all ways, but even more so from having your presence there, playing our favourite songs. I recall a feeling of immense happiness, where you feel like you may burst, and in the back ground was the Pogues 'love you till the end' being played. We had listened to you a lot on u tube, so it was nice, familiar, but surreal to have you playing beside us.
Penny & Gerald
---
We would like to thank you for helping to make our Wedding night such a memorable one. You created a great atmosphere in the room. All our guest were commenting on your performance! Thankyou
ps: Cheers to you for learning our first dance song together. The music was everything we hoped for Marty!
Shane & Lisa
---
Thanks Marty for making our wedding ceremony and reception so special. We appreciated you learning the song requested for the ceremony and the atmosphere you created for our reception. Many guests commented positively on the entertainment you provided. We would highly recommend Marty for any function.
Kerry & Anna
---
Before we got married, my husband and I heard Marty sing at the Kawana Waters Hotel and we both thought he sounded unreal. So when it came to organising our engagement party at home a few months later we had no hesitation in contacting him to see if he could come and play for us. Lucky for us Marty was available and he turned a great night into a fabulous night for everyone to remember – I would recommend Marty to anyone who wants someone with a great voice to sing at their function.
Wendy & Paul
---
We had such a perfect day for our wedding, thank you for helping make it extra special. Your music was awesome and set all the right moods at the right moments! We will definitely recommend you!! 
Alina and Ken
---
Thank you so much for playing at our wedding . You were brilliant and really created a great atmosphere for the night! Lots of our guests commented on how great the musician was! Thank you!!!
Thanks Liesl
---
I just wanted to send you a Big thank you for singing at our wedding. Both Lindsay & I think you did a fabulous job both on the beach and at the reception. (Many guests commenting as well)Thanks again.
Regan & Lindsay
---
This is just a quick email to Thank You for lending us your beautiful musical skills at our wedding. I knew you would be great as I had seen you before but you really were amazing. We have had so many wonderful comments from our guests, I only wish I wasn't so damn pre-occupied on the day to have sat and enjoyed all your songs!!
Rick & Bec
---
Thank you so so much for making our day so fantastic.You were just perfect. We couldn't have chosen the music better ourselves and everyone had such a wonderful time and so much fun. We will most definitely be recommending you to anyone who might ask. Thanks for answering all my crazy bride questions in the lead up too!
Claire & Will