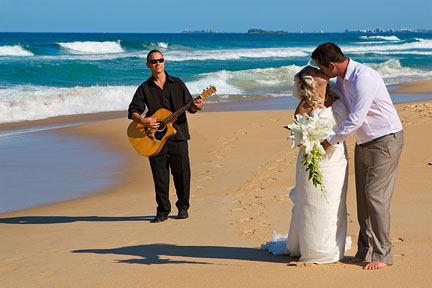 Hi, my name is Marty Sima. I'm a live musician and DJ specialising in weddings. I've done more than 2000 gigs over 15 years in countless restaurants, hotels, function venues and private homes. When it comes to weddings, well, it's really where my passion lies. Being an integral part of someone's special day is truly an honour, and not one I take lightly. I ensure that through music I enhance my client's big day, making it a memorable event. After all, I provide the soundtrack to their special day. Now, there's only one of me so I can't possibly play at everyone's wedding, but I can share with you some vital information that I have gained over many years that can not only save you money, but will save you the disappointment of regretting your choice of wedding musician or wedding music.
What are the choices people have for wedding music?
When it comes to music on your wedding day there are a few decisions you will have to make. Not only what is played you must also decide how it is to be played.
Jukebox? ipod? DJ? Musician? And then you start researching how much it will cost.
Jukeboxes seem like a great idea until the tenth time you have to listen to someone's favourite song that they keep requesting. With no one to say "No" you are at the mercy of your guests to set the mood. Quite a gamble!
An ipod will take you a lot of time to compile a list of songs appropriate to a wedding. The problem is that you will need to be able to anticipate what type of music you will want to hear "in the moment", in advance. If particular, certain traditional songs need to be played, such as when you walk down the aisle – this is inconvenient when someone will have to stand next to the ipod and press the correct button. Sounds simple, but is so easily messed up, ruining the moment forever.
All songs are mixed differently when recorded. This means that not all songs are of the same volume. If you are using an ipod some songs will be louder or softer. Someone will need to attend to this. Probably the main problem with an ipod is the inability of guests to request songs. What ends up happening is that some guests will take it upon themselves to fast forward songs they don't like as well as repeating the ones they love. There goes your perfect playlist! And while that one drunk person dances to the song only they like, for the tenth time, the rest of your guests are wishing you left the ipod at home.
I went to wedding once where the groom insisted on playing his music all night. While there is nothing wrong with heavy thrash metal, it's not everyone's cup of tea. The grandparents and older folk all hated it and while they put on a brave face, the music didn't help set a good atmosphere at all. Many people left early.
If you intend on getting a DJ, then great. Much of what I talk about will apply to you. All DJ's and musicians are different. I'm going to give you some invaluable tips to help you with your journey of hiring a musician or DJ or both. 
What are the advantages of hiring a musician over other options?
Ok so picture this. You are the groom waiting at the end of the aisle for you beautiful bride. She emerges from the Limo and someone presses play on the ipod. However she pauses for photos with the photographer and a brides maid helps her with her dress as something needs adjusting. Before you know it the song has finished. Silence. For what seems like ages. Your friend tries to play the song again but doesn't know how to use the ipod and accidently plays something else. stop.pause.wait. anyway this is just one possible nightmare. With an experienced musician they could seamlessly extend the song or Segway into another and come back to the aisle song. All without fuss. Much easier! This applies to the whole night. A musician and DJ are much more flexible than your other options. The main advantage is that your musical needs can be taken care of by someone else and you don't have to worry about it. They can lead you through the planning process as only an experienced professional can. And with that comes peace of mind.
What do you need to know when hiring a musician?
Hiring a musician can seem like a daunting task, but it doesn't have to be.
Unlike some other wedding suppliers, musicians can usually only do one wedding in a day. Popular dates, especially Saturdays, book up quick. This means that musicians are often booked over a year in advance. So if you leave it to a month before your wedding to organise a musician, your choices may be limited. One way to avoid this and possibly save some money is to have your wedding mid-week. Musicians and other suppliers often have a mid-week discount rate. They are also more likely to be available! If you have your heart set on a particular musician, then it is never too early to book them in. However having said that there are a number of things you need to look at before you book.
What questions should be asked?
How long have they been a professional musician? Getting your friend's brother's friend to play at your wedding may seem cost effective. But when your wedding starts to sound like bad karaoke you'll pay any money to make it stop! Ensure you musician has at least played elsewhere and is experienced enough to deal with a wedding situation. A wedding is no place for amateur hour.
Will they still be around for the date of the wedding? It may not be for another year and a half. Every year, I get many last minute calls to see if I'm available to play at a wedding due to the band having either (a) broken up (b) moved interstate (c) double booked or (d) took a better-paying booking. Is your musician a professional who won't cancel on you if someone offers more money? This is something you need to ask them. Personally, I work on the first in first served motto. I've been begged and offered more money, but would never cancel a wedding booking. Your musician needs to have the same ethics.
Does the musician or band do many weddings? Do they play professionally frequently or are they a garage band that likes to jam every six months? Wedding gigs are totally different to regular pub or club gigs. There needs to be a certain level of maturity of the musicians' or bands' attitude to ensure a wedding gig is successful. It's not about the music the band like to play, but about what the crowd wants to hear. How the heck do you find out what the crowd wants to hear? With experience. How often do they do weddings? Do they like doing weddings? I love doing weddings for many different reasons, such as the joy of making people happy through my music and being a part of their big day. But here is something most people don't know: a lot of musicians hate doing weddings. They find them very stressful, time consuming and demanding. They don't like dealing with people too much so constant questions from the bride, groom, their parents and family about the music are seen as annoyances.
Have you played at my chosen venue? This is a very important question as every venue is different. They each have different nuances that need to be considered when setting up a musician. Where the musician is located on your floor plan is important as you want your guests to be able to see them. If a musician has played a venue before, they can often offer valuable advice about stage, speaker and dance-floor positions.
How long are your sets? Do you have background music while you are taking a break? This is vitally important. The last thing you want at a wedding is silence. Your musician needs to be part DJ and play appropriate music during breaks. Live music sets can be anything from 20-45 minutes in length, with breaks being from 15-30 minutes. This all depends on what you and your musician agree apon.
Can guests make requests? This will depend on the musician's experience and how many songs they know. Your musician needs to be open to both yours and your guests' requests.
Can you learn songs for my aisle, signing or recessional song? You may have a particular song in mind for walking down the aisle and would like a musician to play it for you. While they will probably charge you for learning the song, you may want to ask if it's possible before you book them. A good wedding musician will work with you to compile a custom playlist as well as learning songs for you should you require. This personalises the music towards your tastes while also taking into account the various tastes of your guests.
So, how much should you spend on a musician? It really depends on your budget. The thing to remember is that music needs to set the mood. It will form the soundtrack to your big day. If you have a high budget for things like venue, food and flowers then you need to set something appropriate for the music. All of these things work together to make your special day awesome as a whole. Don't let the music let you down.
Some musicians seem to disappear once they are booked and any correspondence can be met with silence on their part. Ensure your wedding musician responds to emails and phone calls in a timely manner and is available to help you plan your day. Recently, a wedding planner called me on a Wednesday to see if I was available that Friday to play at a wedding she was organising. The bride had booked a musician six months earlier and not heard from him since. She had sent many emails and called many times, but still nothing. Nobody knew if he was going to turn up or not. He did turn up in the end, but the damage had already been done. Everyone was less than impressed with his communication skills and stress he had caused. Not a good start.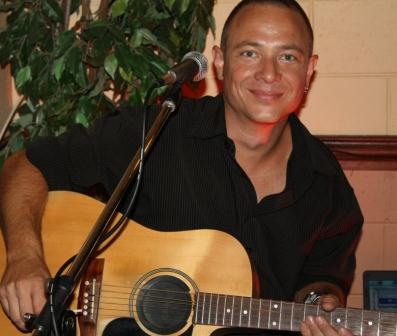 ---
Red Hot Tips
–Ask your other suppliers who they would recommend. By following my advice you will save yourself not only money, but also save yourself the worry the comes with planning music for your wedding. Getting a musician is a great choice, but you need to be careful whom you book. Professionals are well known to venue operators as well as other suppliers – as are shonky operators. Ask your other suppliers who they would recommend. They may be able to point you in the right direction and save you a lot of time researching your local wedding musicians.
–You don't always get what you pay for. Unfortunately, I hear a lot of horror stories relating to wedding bands and musicians. Not long ago I was talking to a venue's owner who was telling me about a wedding the previous week. They were a lovely couple that went to great expense planning their perfect day. At the end of the night they said that it was great, but if they could change one thing, they would not have gotten that band. The band was a three-piece and charged $6000 for the night. And they were terrible. Just goes to show that you don't always get what you pay for. By asking a few relevant questions they could have saved money and been happy with their choice of musicians.
-Put your older guests furthest away from where the speakers will be. Grandma and Grandpa will be the first to complain about the music being too loud if they are seated right next to a speaker. The band will then have to turn down the volume, causing the people in the back of the room to be too far away to hear. Usually the musician/band is near the dance floor so seat your younger, 'more inclined to party guests' closest to the dance floor.
-Listen to the musician's demos. Professional musicians have done some recordings or youtube videos at some point so a look at their website is a good start to listen to how they sound. Youtube videos are also a good way to see how they sound. If you have the time you can also go to see them play live. Many wedding musicians also do public performances where you can go along to see them. It may be a pub/club gig or a restaurant gig. If you have the chance to see your musician live then it is a great idea to check them out, as they may sound different to their recorded demos.
Red Hot Tips
Clients all receive extensive lists of  Wedding Aisle Songs, Wedding Signing Songs and Wedding Recessional Songs. Call 0417 421 097 or email simamarty@gmail.com